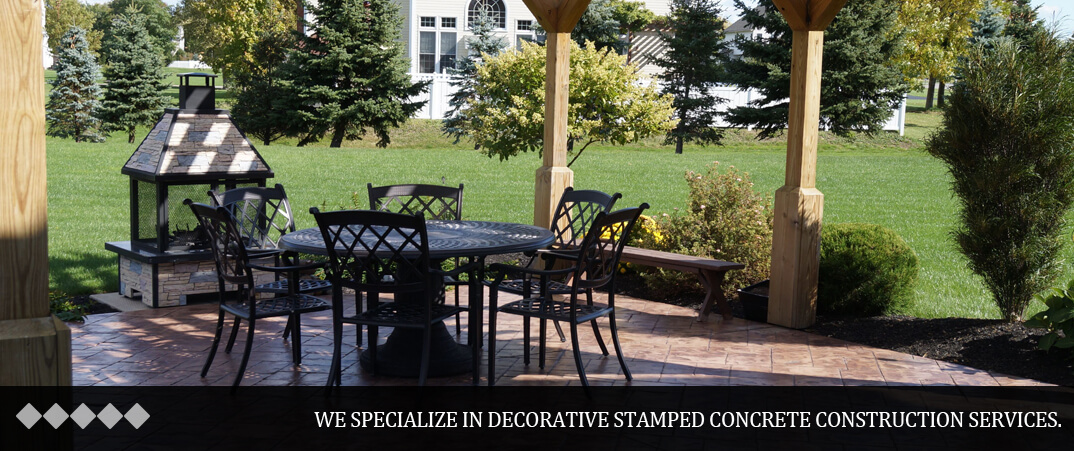 Regional Concrete is consistently ranked among the best concrete contractors in Rochester, NY. We pride ourselves on offering outstanding customer satisfaction as well as providing a high-quality finished product for every customer. Our clients are often referrals and repeat clients. Over the years we've created custom concrete driveways, concrete walkways, concrete sidewalks, concrete slabs, concrete floors, concrete foundations, concrete loading docks and concrete curb cuts with pride. Whatever your needs might be, we're the concrete contractor you can trust to do the job right!
Homeowners throughout Monroe County can browse the stunning concrete and overlay solution options offered by visiting the stamped patterns and colors page. We also encourage you to view just a small sample of the concrete project's we've completed in our showcase section. You'll see some of the most impressive, hand detailed, and custom crafted stamped concrete patios & walkways of Rochester, NY thanks to our team of professionals! Of course, we didn't forget to include photos of our broom-finished sidewalks and patios, stamped concrete overlays, and retaining walls to further emphasize our expertise with concrete. We strive to create stunning and decorative concrete creations that you can enjoy with your family for years to come. Many clients tell us they love their new decorative outdoor living space so much they find themselves simply gazing out the window! Simply adding a stamped concrete living space to your home will boost your curb appeal and increase the resale value of your home.
We transform regular concrete into beautiful masterpieces that add style and character to your project with cost efficiency, durability, and craftsmanship. Our contractors stand behind the quality of our work, not just because it will look good, but because it is extremely durable.
Our various designs, colors, and textures of concrete can effortlessly complement any landscape design to give you a sense of pride and unmatched satisfaction that no other contractor in New York can possibly give. The next time you are considering options for your concrete project, whether a new installation or renovation of your driveway, patio, pool deck or interior floor, get a free estimate from Regional Decorative Concrete. We proudly serve Rochester, Webster, Penfield, Pittsford and Victor in the NY area.